Wafer Process Systems Inc. performs in field modifications to existing equipment. This is to accommodate process changes, safety, and upgrades, for our customers existing equipment. This relieves the need of extensive cost associated with the removal of existing equipment and installation of new equipment. Including, our acid base wet bench products.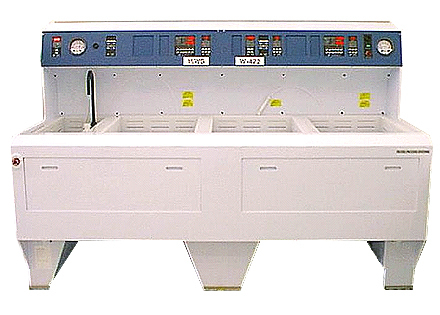 Acid Base Wet Bench Overview
The Wafer Process Systems Inc. Model WPS-VLF-800-FA- PVC-C is a vertical laminar wet bench. It's a front access wet process bench designed to process Si and GaAs wafers. All processed in class 10 environments. The system can be constructed out of CPVC, PVC-C, (PVDF) Kynar or (ECTFE) Halar construction to ensure corrosion resistance to acids and bases.
The through wall installation on the acid base wet bench permits all service connections to be made in rear chase. This is to make sure to facilitate auxiliary equipment installations. An open base provides for clean room air return. Which reduces particle build up beneath the system. Safety and ergonomics are the main aspects in the systems design. Seismic bracing at six points ensures additional safety to facility and personnel. All DI water fluid components are accessible through removable front access panels. All electrical components are accessible through front slide out control panels. They incorporate interlock switches with EPO interface for safety. In conclusion, all chemical wetted components are PVDF, PFA or quartz.